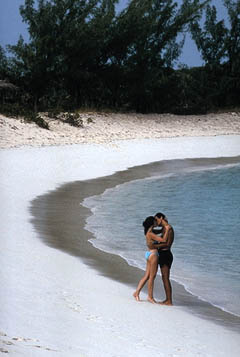 Starting just 35 miles southeast of Nassau is a chain of some of the prettiest and least visited island in The Bahamas; the Exumas. Numbering more than 350, these principally uninhabited islands start with Sail Rocks to the north and stretch for more than 100 miles down the west side of the Exuma Sound, finally terminating with the big islands of Great Exuma and Little Exuma on the southern end. Within the chain are dozens of excellent anchorage's, hundreds of pure white undisturbed beaches and seemingly endless lush coral gardens.
Day 1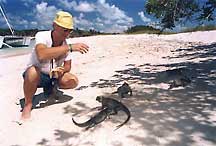 Board in Nassau and cruise to Allan's Cay. Explore the nearby beaches, meet the large population of Iguanas which come out to greet the visitors. Good snorkeling reefs and fishing around this collection of small island and reefs.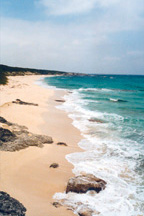 Day 2
Cruise to Hawksbill Cay. Delight in the beautiful expanse of beaches and climb the large hill for a panoramic view of the anchorage. Walk the trails to explore ruins of Loyalist plantations dating from 1783-1830.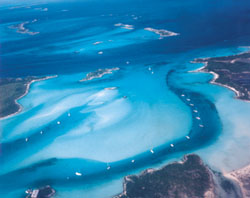 Day 3
Cruise to Warderick Wells, headquarters of the Exuma Land and Sea Park and be amazed at the awesome display of watercolors and sand banks. Visit the headquarters and take advantage of their walking trails, including a Sperm Whale skeleton on the beach. Snorkeling this area will be rewarding, as you discover a full spectrum of tropical fish and marine life.
Day 4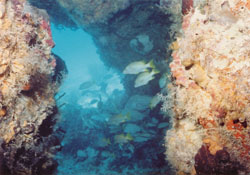 Cruise to Staniel Cay and visit the quaint settlement sprinkled with brightly colored houses. The highlight of this area is "Thunderball Grotto", where snorkelers can visit the site of such movie hits as "Thunderball" and "Splash"! A fine dinner or drinks at the Staniel Cay Yacht Club is always a great Out Island experience.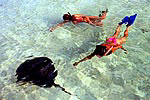 Day 5
Cruise to the Pipe Creek area and explore the multitude of interconnecting islands, rocks and sand bars. The fishing, exploring and snorkeling opportunities will satisfy all.
Day 6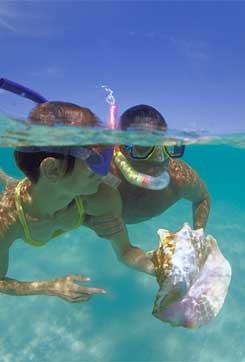 Cruise to Shroud Cay and take the dingy or Kayak and ride through unspoiled mangrove creeks and lunch on a spectacular beach on the ocean. Rare White-tailed Tropicbirds nest here in March and April, providing spectacular flying displays.
Day 7
Stop by Norman's Cay to snorkel on the airplane wreck then cruise to Nassau for a visit to Atlantis and a final night of celebrating a wonderful and unique vacation.
Note: There are 120 miles in the Exuma Island chain offering a very extensive cruising area for repeat visits or trips longer than one week.