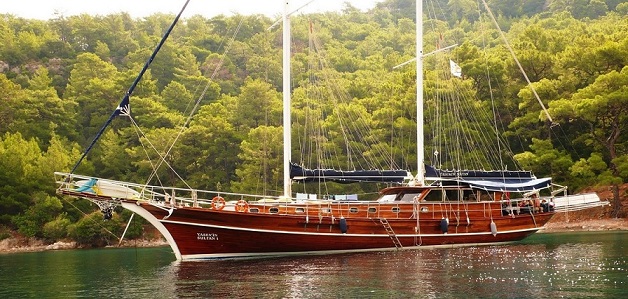 If you're looking for a truly relaxing and invigorating holiday, discovering the ancient sites, bays, coves and harbours of Turkey, then our gulet cruises will be perfect for you. Cruise in style on incredible journeys of discovery that have to be experienced to be believed.
Cruising on a Gulet
There's plenty of choice when it comes to gulets, and our superb range of vessels have been carefully selected to ensure both comfort and the quality that you would expect. Every gulet is hand-crafted in Turkey. Gulet cruises can host groups from 2 to 24 people, with options for master, double or twin cabins.
Life aboard a traditional Turkish gulet
On most itineraries gulets cruise for an average of three hours a day, generally by motor to keep to schedule, under glorious sail when weather and
time permits. There are plenty of opportunities for swimming, snorkeling, and kayaking as your gulet journeys along the coast. This wonderful way of travelling is sometimes known as a 'blue cruise'.
Service is a prime consideration and we boast experienced captains and excellent cooks to make your adventure simply unforgettable. Mealtime panoramas range from secluded coves to picturesque old fishing villages. All food is prepared in the gulet's galley by the onboard cook, who conjures up a variety of fresh local delicacies in tune with your specific menu requests planned in advance.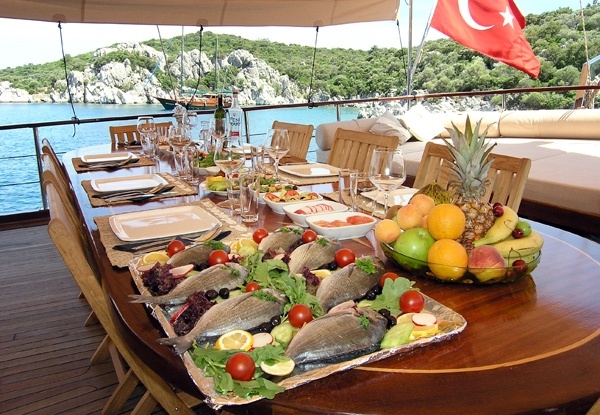 Turkish Cuisine
Turkey is well known for its healthy Mediterranean diet. Breakfasts on board typically consists of bread, tomatoes, olives, cheese, eggs, yoghurt and honey. Lunches (and dinners) are usually hearty meals with grilled meats, fresh fish, accompanied by a variety of salads and tasty side dishes (mezza), followed by fruit or filled pastry. Delicious local wines are stocked on board, along with a range of spirits, beers, soft drinks and fruit juices. To sample local cuisine and immerse yourself in the local cultre, we recommend dining ashore most evenings in local tavernas or cafes.
History of Gulets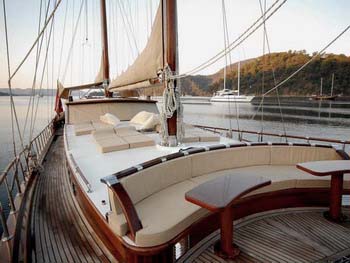 The word 'gulet' (pronounced "goo-let)) probably derives from the French goulette, or schooner. These two-masted wooden vessels, are typically made from pine and mahogany, and were long used for transporting goods and fishing along the southern coasts of Turkey. Typically designed with a sharp bow, broad beam and rounded stern, they are incredibly stable and offer an easy motion even in the roughest seas. These days they are designed and fitted with comfort for guests, rather than the safety of cargo.
Gulet Cruise Itineraries
We offer the finest Turkey gulet charters and sailing vacations with a historical, archaeological and cultural theme, coupled with watersports and culinary treasures of the Lycian coast. Enjoy total relaxation, beautiful food, and superb swimming along with archaeological adventures and exploring Bazzars. We have a wide range of gulet cruise itineraries throughout the Aegean and Antalya coasts, as well as throughout the Adriatic Sea and Dalmatia.
Private Gulet charters
Gulet Charters on fully crewed Turkish gulet Gulets are available for private groups, large and small, from honeymoons to extended family holidays or corporate events. We work with a range of gulets all hand crafted from wood and manned by experienced local crews, and provide you with all logistical support from start to finish, and can tailor the itinerary to exceed your expectations.
When & Where to Go

The gulet cruise calendar runs from spring until autumn. Weather in Turkey is the warmest of all the Mediterranean regions, and the least affected by the Meltemi winds that are so common in mid summer in Greece.

The most popular Cruising area are the Gulf of Fethiye and Gulf of Gokova, which include some of the most beautiful harbors and bays in all of Turkey. The best time to experience Turkey is in the late spring and late summer to avoid summer crowds.
We have been working as a gulet cruise specialst for well over two decades, since our first cruise in Turkey in 1994, and we continually inspect Gulets all over the Eastern Mediterranean to assure your expectations are met or exceeded. We will be delighted to use our experience and knowledge to help create the perfect gulet vacation and blue voyage for you. Contact a Gulet Charter Specialist today!