Meet your yacht at Nelson's Dockyard in English Harbor, the one-time British naval station for Her Majesty's ships. Now beautifully reconstructed to house hotels, restaurants and yachting facilities, this is the major Caribbean yachting center and home to many gold-plated charter yachts of sail and power. This is the home of the Antigua Race Week, and the Classic Yacht Regatta, two of the Caribbean's premier regattas. Enjoy cocktails overlooking the historic waterfront, visit one of the casinos or one of many nightspots for an evening of dining and dancing. A hike to Shirley Heights offers spectacular views and the opportunity to visit the ruins of the Fort that once protected the harbor. Their look-out bar and barbecue on Sunday evenings starts with a steel band playing to sunset, then a raggae band takes over for a night of dancing. Alternately, sail to Carlisle Bay and anchor in its quiet, palm fringed waters for a truly away-from-it-all first night.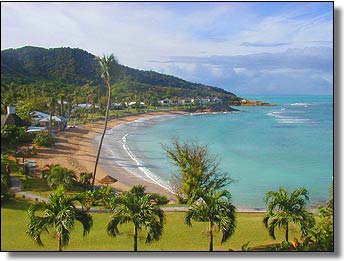 Along the south and west coasts of Antigua, clear waters and good sailing breeze combined with the beautiful beaches and lush interior scenery, make this one of the finest sailing passages in the islands. Jolly Harbour offers a large new marina, many fine shops, banks, markets and restaurants as well as a new 18 hole Golf Club, squash and basketball facilities. Nightly entertainment often includes cabaret or reggae bands, and you can arrange dive trips, water skiing or para-sailing. Galley Bay has a long wild looking beach backed by a tangle of palms and Seagrapes. Galley Bay Hotel peeks through the palms offering a pleasant open air restaurant to the sounds of birds singing. Just around the corner is Five Islands Harbor, a magnificent bay with nothing except birds, beaches and mangroves.
Snorkeling or diving the wreck of the Andes in Deep Bay is splendid. This three masted iron barque sits upright on the bottom, encrusted with sponges and coral, sheltering large schools of fish. Experienced divers will want to dive on Cades Reef, a national park. Deep Bay is a charming anchorage with a long sandy beach, home of Fort Barrington and the Royal Antiguan Hotel where you might choose to dance or gamble the night away!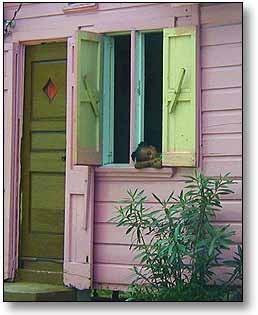 St. Johns is the capital of Antigua and offers superb shopping including many fine jewelry and perfume stores, bountiful boutiques and quality garments as well as locally made pottery. Picturesque old buildings line the streets and several fine restaurants and markets are within walking distance. Historic Fort James offers fine views, and paying a visit to the Museum of Antigua and Barbuda offers a glimpse of life in these islands from pre-Colombian times to independence.
Barbuda lies 30 miles North of Antigua across open water and since it is a low lying island, is only visible from within 10 miles. A night tucked inside the sheltering reef at Spanish Point, where the only thing to windward is 4,000 miles of Atlantic Ocean, is an unforgettable experience.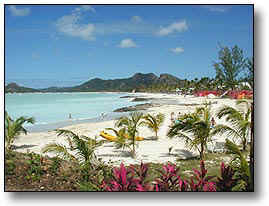 Barbuda is an island dedicated to the heart and nature and is considered by many as Heaven on earth. The shorelines are dotted with living coral, offering exciting exploring and unparalleled snorkeling. Teeming with every kind of fish, you have a good chance of spotting decorative eagle rays, often swimming in pairs, or gently moving sting rays and turtles. Barbuda is home to a natural bird sanctuary with an unusually large Frigate bird colony and endless pale pink beaches with nary a soul on them, the largest beach is unbroken for over 11 miles! Ashore there are wild donkeys, horses and deer.
After a reach back down the East coast of Antigua arrive at Green Island, unspoiled by buildings with abundant bird life, including red-billed tropicbirds, white crowned pigeons, ospreys, night herons and pelicans. Nonsuch Bay is a reef protected expanse of water covering several square miles. This is a wonderful gunk-holing area, offering a wealth of good overnight anchorages in settings that vary from protected mangrove creeks to open vistas where only the reef lies between you and the Atlantic Ocean rolling unbroken from Africa.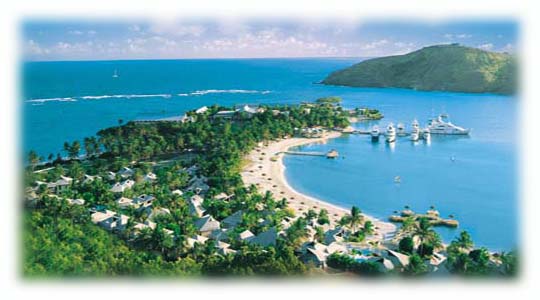 Mamora Bay is a well protected lagoon at the site of the prestigious St. James Club. It may be the only place in the Caribbean where you can tie to the dock and get room service on board. The club provides a whole gamut of activities from croquet to horse back riding and in the winter months is host to some of the world's finest motor yachts.
The end of your cruise brings you back to English Harbor, but a journey you
won't forget in a hurry. Every anchorage in Antigua and Barbuda is characterized by beautiful clean waters and beaches. This island jewel, set in the heart of the Caribbean, certainly fulfills the image of a perfect tropical paradise.